MEMORY is the ninth and last of what Curtis calls her solo biennials. When this installation closes October 28, Curtis will have designed, constructed and installed 81 audience-activated art pieces in nine mill spaces in eight Maine communities. She began the project in the Bates Mill in 2000 when she was 28, and ends it here at age 46, because it felt appropriate to end where it began.
"This is my opus," she said. "It feels amazing to see it all the way through."
Curtis explores the balance of chaos, order and repetition. The element of human participation introduces chaos into a process that is predicated on order and repetition. All of those elements were at play when millworkers mass-produced blankets, shoes and paper. The mills operated with precision and order, and their success was based on the repetition of efficient practices. The human element introduced uncertainty.
Curtis sees her art as honoring the millworkers of Maine, and it begins with her decision to clean the exhibition space on her hands and knees. Cleaning a mill means removing decades of dirt and grime from dozens of columns, washing windows, and sweeping and scrubbing endless tracts of wooden floors. The cleaning is part of her artistic process. It connects her with the workers who made their lives here. She is doing her own kind of mill work, repeating movements and processes---sweeping, scrubbing, wiping---over a space nearly the size of the floor of the Cross Insurance Arena.
It's performance art that no one sees.
"It's almost a sacred act," she said. "I feel immense joy while I'm doing it. It's just like detailing a car---a really big car."
She begins by cleaning physical objects out of the mill---"wood, metal, glass and dead things." The metal, leftover machinery and or mill parts, she relocates elsewhere in the complex. They are part of the bones of this place, she said, and should not be removed. The dirt and the dead, she gathers. She reaches up as high as she can on the interior columns and brings down all the dirt and grime, which piles on the floor around her. She sweeps it into orderly columns, bags it and removes it.
Then she begins to scrub.
Sharon Corwin, director of the Colby College Museum of Art, said Curtis is unique among contemporary artists because of the amount of labor she puts into her work, as well as the commitment she requires of participants. This is not an exhibition that people breeze through. It takes time to complete it, and the more time that people spend with it, the more they get out of it, Corwin said.
"In today's world, the time that people are willing to give to any experience is challenged by the lives we lead, the digital lives. Amy's practice requires people to commit to it in a durational way," Corwin said. "It's not a video that you can look at and walk away from. It's not a painting you can look at in a gallery and move on from. It's a piece you have to experience."
Corwin called Curtis a complicated and rigorous artist. "I think the obsessiveness of her art is her strength," Corwin said, noting the 18-year duration of the project. "She's played the long game in this. It's extraordinary she's at the end of it."
[Curtis] wonders what the millworkers would think of her work, after all these years.
"I think they would respect it," she said. "I try to work as efficiently as I can, just as they did. There were no wasted movements in their work, and I try to do the same thing in mine."
[The Robinson Mill in Parsonsfield, Maine] has been out of operation since 2000, but for the next three weeks, it's the site of a bizarre, unclassifiable, and oddly intimate sort of production by the renowned Maine artist Amy Stacey Curtis.
In local art circles, Curtis's ambitious, career-defining project is well known. MATTER is the eighth of nine biennial installations exploring elemental concepts within the walls of largely abandoned Maine mills, an 18-year series she aims to conclude in Lewiston in 2016 (at the same site she launched her first installation, EXPERIENCE, in 2000). Like previous exhibits, MATTER balances on a thin line between high-aesthetic conceptual art---the room's oily, graffiti'd interior is juxtaposed with sleek, ivory-hued pedestals and glass vials of seemingly infinite quantity---and a rigorous commitment to populism and downright folksy inclusivity. (Curtis herself, gregarious and a little enigmatic, is present during all hours of the exhibit).
Whether experienced alone or in groups, Curtis's installations tend to produce in visitors a sort of quiet reverence. Large signs bearing painstakingly elaborate instructions guide participants along; in each, the conceit is barebones simple---one asks you to make small alterations to a material form; another to barter with objects left by previous guests; a third, quixotically, to mediate the levels of meniscus on a platform holding nine tall cylinders full of water.
Some of MATTER's installations are so minimally devised that participation calls for little more than witness---and as reluctant as we should be to read some pedagogical intention here, this could be a clue. Whether they call for us to build, transform, swap, displace, or discolor, none of these exercises have any sort of real utility or scientific measurement.
And why should they? The value of such physical labors began being swept out of rural Maine long ago. More and more, we live in an experience economy now, where simple acts of extracting meaning from memory, interaction, and sensation is increasingly the model by which human lives are valued.
[Curtis] works in sites containing an incredible amount of cultural memory of human labor, creating a space for people to perform simple tasks and gestures of physical and mental activity. [These] collectively performed actions can signify whatever we want them to mean---an experience that can be anxious, liberating, and oddly memorable.
When our culture fully completes its transition to an experience economy, it will no doubt benefit those who can best afford it, paying top dollar for exotic tourist destinations, Airbnb getaway packages, and exotically sourced foods. And those among us who once wove textiles inside places like Robinson Mill will be at their beck and call. Before that day comes, we could learn a thing or two from art projects like Amy Stacey Curtis's, which remind us that finding value and meaning can be no simpler than tapping a friend on the shoulder.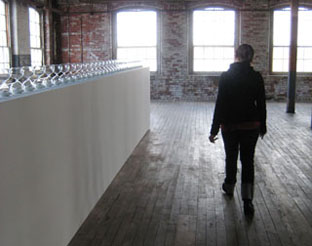 Excerpts from Craig Stockwell's article "Deep TIME: The Art of Amy Stacey Curtis" in Art New England (November/December 2012)
Amy is among those artists who have tied their process to a set of rules and prescriptions that build toward an endpoint. Her pleasure lies in the unfolding of the specific projects and the purposes they yield as they manifest themselves. The audience's pleasure comes in understanding the various proposals, viewing the results, and participating in the outcome.
I visited Amy again in August as she was beginning the installation process within the massive mill. I was curious about the spiritual nature of the work; one can't help but note the ritualistic cleansing and penitential scrubbing that was occurring at this point. Amy hand scrubs the 25,000 [average] square feet of floors. She agreed that the work, in its totality, is spiritual but, "not in words, more as a meditative undertaking." Amy is also deeply aware of her viewers, stating that "without the audience, the work is literally static." By this she means both the interactions asked of visitors and the way that the works and the project itself are brought to life by others. In some cases the audience literally completes the piece: they are asked to move blocks of wood [or a steel ball] slowly from one position to another, [they are asked to invert slate tiles]. Amy purposely uses the simplest raw materials in building her works: she feels that, "by keeping things simple people are more likely to bring themselves [into the work]." She speaks of the entire installation as a form of self-portraiture and expresses the immense vulnerability that she feels and permits when the exhibition opens.
Amy has come to this work not through MFA study but through an MA study of psychology. Most curious is that this non-art path has led her to replicate many of the practices of conceptual and minimalist artists from the '60s and '70s: Propose an action, do it, show it. This is work about connection and generosity. First, there is the obvious gesture of healing old mill buildings. Second, through the solo-biennials, she has painstakingly constructed a [system].
The work of Amy Stacey Curtis is both familiar to and dissimilar from contemporary art practice. Her fierce regionalism and self-invented projects almost set her in a kind of outsider art category, although the art world is slowly pulling her in since 2002 with shows at The Barbara Krakow Gallery, Colby College, Bates College, and an upcoming solo show at the Portland Museum of Art. Her individual pieces succeed in the very fact that they are realized, yet there's a necessary rate of failure and nonentity. What is certain is that here is a very determined and original voice emerging from Maine.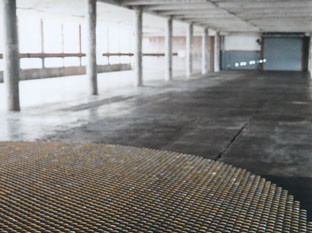 Excerpts from Edgar Allen Beam's article "Art on the Edge" in DownEast Magazine (August 2010)
The most adventurous new artworks in Maine are not paintings, drawings, sculpture, prints, or photographs. Where these traditional art forms tend to be object-oriented, cutting edge art in the twenty-first century more often takes the form of an event or a temporary installation.
Artist and Bowdoin College professor Mark Wethli, who has helped promote installation art as the co-director of the Coleman Burke Gallery in Brunswick, believes that Amy Stacey Curtis, Greta Bank, Anna Hepler, Randy Regier, Lauren Fensterstock, and Aaron Stephan "are easily among the most exciting artists working in Maine today--or anywhere, for that matter."
"Whereas a fair amount of installation art on the art scene in general tends to be fairly esoteric, rarefied, cryptic, and inaccessible to the general public," says Wethli, "these are artists whose work is serious but also accessible to a wider audience."
"These are the best artists working in Maine," enthuses Maine Arts Commission assistant director Alison Ferris. The state-run arts commission has supported their non-commercial installations with grants and fellowships, says Arts Commission director Donna McNeil, because, "the work of these superb artists is ambitious and original in nature, delivering an opportunity to engage on many levels simultaneously."
Amy Stacey Curtis: Calculating Artist
Amy Stacey Curtis, of Lyman, may well be Maine's most calculating artist. A graduate of the University of Maine and Vermont College, Curtis, 40, was a math whiz intent upon becoming an engineer when her family moved to Maine in 1986 and she discovered art at Massabesic High School. Her work, however, retains an acute mathematical component.
Since 2000, Curtis has staged five "solo biennials" in some of Maine's historic factories: the Bates Mill Complex in Lewiston, the former Sebago Moc Mill in Westbrook; Fort Andross in Brunswick, Waterville's Lockwood Mill, and the Sanford Mill. All of Curtis' thematic installations play with ideas of "chaos, order, and repetition," often incorporating the base number nine.
For modulation I, for example, Curtis arranged 8,118 aluminum cans in a circle, each can containing colored paper such that the twenty-one-foot circumference circle modulated from red to orange, yellow, green, blue, violet and back to red as a viewer walked around it.
One of the nine installations at her next exhibit will take the form of a white crocheted blanket, seven feet by a hundred feet, that Curtis has been working on one hour a day for a year. The audience will be instructed to unravel the blanket and place the unwound yarn in a clear Plexiglas box next to the blanket, essentially undoing all her hard work and negating the time she has spent making the blanket.
"I have found my purpose in that I want to convey to people that we are all parts of a whole and that is precious," says Curtis. "It's a metaphorical experience for people. People become part of the art. They complete the art."
Sharon Corwin, director of the Colby College Museum of Art, where Curtis previewed some of her work, says, "Amy is pushing the genre of installation in radical ways. I find her work to be profoundly generous in the ways in which it ultimately depends on the viewer for its creation."
"Amy Stacey Curtis would be unique anywhere she went," says artist Charlie Hewitt, a Maine native and a veteran of the New York art scene, "but she would have to be a multi-millionaire to do her work in New York. All those empty mills she uses would be turned into condos."
Curtis plans her methodical installations in a tidy bedroom studio in the small house she shares with husband, Bill, down a quiet country road in rural Lyman. As to the place Maine occupies in her life and art, Curtis says, "Moving to Maine was the first time I felt I belonged somewhere. This is where I started feeling happy. This is where I came to be an artist. My art is like a gift I want to give back to the state."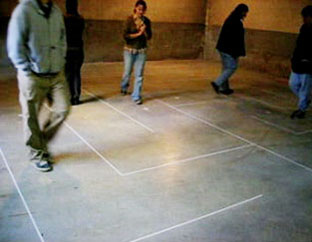 Excerpts from Amy Calder's August 28, 2006 preview of SOUND--"Art on a grand scale: Chaos, order, repetition in exhibit reflect repetitive tasks in mill work." Copyright © 2006 Morning Sentinel
In the old mills of Maine, workers' movements were repetitive--cutting, stitching, re-threading machines, folding garments, one on top of the other. That repetition was echoed in the buildings themselves--in walls made of brick on brick, rows of workstations, of lights and windows. But in that order was also, naturally, chaos.
The more Amy Stacey Curtis spends long hours developing her art in these old, defunct mills, the more she finds a growing connection between her work and that of the laborers from long ago.
Curtis is the Maine Arts Commission's 2005 Individual Artist Fellow for Visual Art, working on a temporary exhibit on the second floor of the old Lockwood Mill on Water Street, currently owned by Central Maine Power Co. She is engaging in an ambitious, multi-year project in which she installs a large-scale art exhibit every two years in a vacant Maine mill for a show that runs about a month. Her installations explore the concepts of chaos, order and repetition through specific themes--and require audience participation. Without that participation, her work is incomplete, according to Curtis.
Curtis' multi-year project started in 2000 with her show, EXPERIENCE, at the Bates Mill in Lewiston. She continued with MOVEMENT at the Old Sebago Shoe Mill in Westbrook in 2002; and CHANGE at Fort Andross in Brunswick in 2004...her work reflects the idea that the balance of repetition, chaos and order reflects everything, everyone, every event, and that we and everything are connected.
Curtis spends 22 months developing each exhibit--from doing work in her studio to raising funds, enlisting assistants, installing equipment, showing and documenting each show before tearing it down.
Curtis, 36, of Gray, is an installation artist whose work represents hundreds of hours of intense labor. She goes into the dirty, dusty mills and physically scrubs the massive spaces to accommodate her work. She enlists family members, fellow artists and friends to help scrape paint, build, assemble and install exhibits that often include a couple thousand cans, dozens of large pipes, balls or other objects. In the mill last week, Curtis guided an energetic tour down hallways, into rooms and across an expansive second floor, introducing volunteers who pounded nails, painted walls and hauled heavy loads of lumber.
She has worked eight hours a day, seven days a week in the space since August 4 and will continue until her show opens October 7, commuting the hour-plus drive from Gray or staying with friends in Winslow when she is too exhausted at the end of the day...
"Her installations are just amazing feats of engineering," says June Fitzpatrick, owner of June Fitzpatrick Gallery in Portland, where Curtis' work has been exhibited several years. "I'm struggling for words here. It's more than many artists can even contemplate."
Donna McNeil, contemporary art and public art director for the Maine Arts Commission, said Curtis was chosen from among 100 artists to receive the Commission's $13,000 fellowship for visual art by a juried panel of artists in other states. "The thing about Amy's work that people are really bowled over by is her long-range planning and how a young woman has really planned out her life for the next 20 years--how she had the moxie to not wait for the typical exhibitions. People are attracted to her because she's a success story and she's a young person and has re-invented moving around the gallery system."
Those familiar with her work say Curtis is headed for greatness. "I think Amy's a world-class artist," McNeil says. "She's unstoppable and we're just proud and pleased she's in Maine. She's top-notch."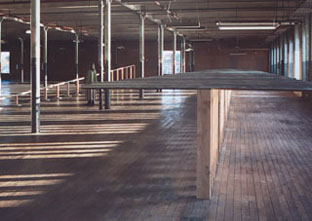 Excerpts from Bob Keyes' October 17, 2004 Audience review of CHANGE--"You're invited to help artist create." Copyright © 2004 Portland Press Herald/Maine Sunday Telegram
If she weren't an artist, Amy Stacey Curtis might have been a mathematician.
A visible example of her interests and inclinations is Curtis' new art installation at Fort Andross in Brunswick, which used to house a textiles factory. The 34-year-old artist from Gray has assembled nine distinct pieces, many of them kinetic, that require action on the part of the viewer.
[One piece:] Curtis assembled a film loop from 366 photos--one for each day of the year, including an extra day for Leap Year--that she shot near her home on Mayall Road in Gray. In the video collage, we see the trees bud, leaf, shed and then go bare, all in a minute's time. It's all about sequence, pattern, predictability and change.
Curtis has titled her exhibition CHANGE, and her goal is to engage people in her creative process. By executing tasks that she assigns to each of her pieces, participants help Curtis complete her artistic vision. Her theory is that for all the order in the world, chaos exists to balance it. In that context, this installation is as much an experiment in human behavior as it is an exhibition of art. Part of the purpose of her project is to witness the chaos that we, as participants, introduce into each of her pieces. The exhibition is a study and provocation of change, designed to make people pause and think about their place in the world and how their small and seemingly innocuous actions affect society on a grander scale.
"To me, chaos, order and repetition are the equation of everything, including us and everything around us," she says. "It's a raw language that represents everything around us and everything we do."
The empty mill setting is key to the outcome of her exhibition... During the exhausting installation process late at night, Curtis sensed the mill's leftover energy. Work had ceased in the mill years before Curtis arrived on site, but the mill still felt active, alive. In that moment, she realized how appropriate the setting was for her work. In these old mills, generations of workers had been trained--indeed, programmed--to execute in a robotic-like manner the same procedures over and over again, with a specific outcome in mind. And yet, by their very nature, humans cannot execute exact tasks with precision time and again. Their work must allow for unavoidable variances that are part of human nature. The same is true of Curtis and her art installations.
She may design her pieces with the precision of an engineer, with a specific outcome in mind as the likely result. But the person participating in the installation can't help but introduce an element that is beyond control of the artist. That moment of uncontrolled chaos is the grist of Curtis' work. That chaos may also relate to emotional change.
Curtis has set up nine pedestals and asked each participant to leave a personal possession behind on top the pedestal. In exchange, they remove an item to take with them. The items left behind vary, though many seem easily discardable--lip balm, an ID tag, a baseball cap. Others seem significant. One person left behind a wedding band. Another left a set of keys. "In that small act of leaving something behind, people share a lot with me," says Curtis. "People are putting things down and leaving things behind that are representative of very personal stuff they want to let go of."
June Fitzpatrick, a Portland gallery owner who represents Curtis, said the artist is unusual in her desire for community participation in her work. "She just has such a strong belief in what she is doing. All artists do, but she has a way that many artists don't," Fitzpatrick said. "Many artists retreat into themselves. But she draws everybody into her work."
Last week, Curtis received the highest honor accorded to a visual artist by the Maine Arts Commission. She was awarded the Individual Artist Fellowship, a $13,000 state grant that rewards artistic excellence and is designed to advance and promote individual artists. "A jury of three out-of-state curators selected Curtis for the prize based in part on her inclusion of the audience as part of her artistic process," said Donna McNeil, a contemporary arts associate with the Maine Arts Commission. Her selection affirms the vitality of contemporary art in Maine, a place that sometimes is viewed as a haven for traditional two-dimensional art. "Maine has a long tradition in the arts. To maintain a long tradition in the arts, you have to maintain an avant-garde or you fall off the map. We haven't fallen off the map. Artists of high caliber are drawn here because we get it, and the selection of Amy Stacey Curtis proves it," McNeil said.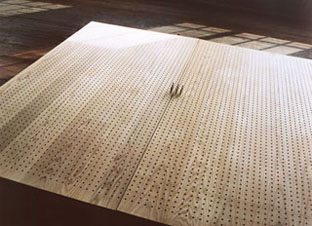 Excerpts from Chris Thompson's October 17, 2002 review of MOVEMENT--"Your own risk." Copyright © 2002 The Portland Phoenix
Recently, sculptor Richard Serra noted that, although we tend to think of formal abstraction as a historical phenomenon that has had its day, its formal languages are really less than two centuries old. That's but a drop in the bucket of art history, and, he suggested, there are entire worlds of formal exploration and analysis that have yet to be imagined.
In her temporary exhibition MOVEMENT, local artist Amy Stacey Curtis takes up Serra's challenge--drawing it together with the challenge issued nearly 100 years ago by Marcel Duchamp, with his insistence that it is the viewer rather than the artist who makes the work of art--in staging a series of aesthetic encounters that couple formalism's experiential pleasures and provocations, both raw and refined, with a carefully crafted conceptual framework that remains open to being revised and unsettled by the combination of chaotic and ordered interactions of the show's viewer/participants. As one of several identical signs hung at head level at movement's entrance tell us: "Without your perception/participation/perpetuation my work is unfinished--aesthetically/conceptually/collectively".
The second in a series of what she calls "solo-biennial" exhibits, MOVEMENT is an installation comprised of nine different but interrelated stations, each of which "explores the aesthetic and collective balance of chaos, order, and repetition through a unique focus." Their titles (volition, torsion, pendulum, abacus II, labyrinth II, channel I, undulation, flux, and, finally, forward) refer to the specific kind of movement that each piece makes possible.
The first, volition, a massive red oak table filled with a grid of hundreds of drilled holes, invites participants to remove the nine small metal rods left in their holes by the previous user and then reinsert them, "choosing as randomly as possible."
Apart from its metaphorical impact--which kicks off our tour by stirring us to consciousness of the movement of our own will, that animating force that makes possible our interaction with all others--volition opens a subtle psychological conundrum as well. As I completed the task, I wondered: was that really random, or just impulsive? How do you choose randomly? How do you separate volitional from randomness, will from obedience--particularly when you note that these questions are raised as a result of your having chosen to follow a set of carefully crafted instructions?
Throughout the show we are slowed to reflect upon the way the tiniest action opens to a universe of implications. Indeed, because the instructions for torsion, the next station, ask that participants wait for the piece to stop moving before using it again, I had to wait a good 10 minutes before I could step up, with two other visitors, to one of the three large metal discs, each suspended from the ceiling by a dozen or so galvanized cables.
Whoever had operated the third disc just before us had clearly twisted it too much. It continued to spin long after the others stopped. Consequently we continued to wait. And as we did, I looked back and noticed the line of people waiting to do precisely the same-but-different thing, standing there and talking, reassuring their kids that they'd get to the rest of the pieces soon.
Across the expansive space--its long clean symmetrical expanse, evenly channeled by columns, looking like an early Renaissance perspectival drawing--parents at station eight (flux) giggled as they popped little black marbles into a long curving suspended metal pipe, while their kids took turns at undulation (station seven). As the metallic echoes of their parents' marbles created a makeshift soundtrack for the entire room, the kids kept deadly serious as they tried to walk as even a pace as possible past a wall of metal washers hung at uniform length at the end of fishing line. Reaching the end, they turned gleefully to watch the hanging wall register their passing with its rhythmic buckles and bends.
As Curtis notes, MOVEMENT's aim is to make possible an "opportunity for dialogue--not only about the philosophies of this non-traditional art genre and visual working examples of physical and mathematical concepts, but about how the audience's precise, periodical perpetuation of its installations suggests order and chaos inherent in ourselves, our community and our collective environment."
Both the scale of her aspirations and the success of her efforts situate "movement" within a history of innovative alternative spaces--from the Fluxus folks, who first colonized defunct Soho industrial lofts as artists' live/work spaces in the 1960s, to the more recent emergence of upper-end warehouse-galleries like New York's Dia Center for the Arts and the Geffen Contemporary (once the "Temporary Contemporary") in Los Angeles.
We tend to romanticize their "do-it-yourself" ethic, but the logistical and financial obstacles that have to be overcome in order to mount such shows are daunting. They require that Edisonian mix of 99 parts perspiration and one part inspiration, and, in this case, a team of volunteers, two of them engineers, a host of funders, and the willingness to admit that there is no "I" in "team." All of which makes it a glorious thing to watch a project like this one take shape and then, as its users get rapturously lost somewhere between the simplicity of their actions and the dynamism of their experience, to see it take flight.


installation

drawing

video

publications

pys

bio/resume

contact

blog